So here is an exciting one! My mom has her own website Shannon's Grotto and she was wanting a new Logo/Icon. It was a lot of fun, she pitched a few ideas for what she wanted but let me have Creative Freedom! Which is always exciting as an artist, and these are what I made her! I think they turned out really cute, and thankfully so does she. 🙂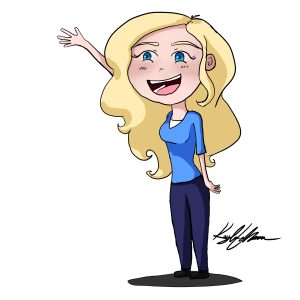 This is Shannon, my Awesome Mom! She's one of my best friends and I really wanted to show some of her personality. So naturally I drew a bunch of little Shannons and this one just turned out sooooo cute! I was also procrastinating because I wasn't sure what to do at first. Her idea was simple a grotto…that was it. She had one image for me to look at that she sort of liked.
So I went into it knowing she wanted a "grotto" but what does that even mean? My first drafts were really dorky, so of course I went back to her and asked her why? Why did she like that One reference? It was simple, she liked the shape of the cave and the little bit of detail. That was it. So I went back to the computer sketched out a few things, and more little Shannons…and eventually found a shape she almost liked. It was too jagged, and she wasn't crazy about the telescope ring idea. I made it anyway…just so she could see what I was seeing, I was prepared to get rid of it but she ended up really liking how it looked.
She was also not fond of the idea of having a little version of herself in the icon. Admittedly I pouted a little but shrugged it off, after all it's for her. Of course that didn't stop me from making it (I just needed to color her in!). However the next day when I showed her everything she really liked the one with her in it. I was a little surprised, but pleased, and glad I'd taken the time to finish that version.
Sometimes showing someone what is happening in your head by taking the time to sketch it out really pays off. I had an idea, but she didn't quite see it until it was finished. She had the final say of course, but I was glad I at least got to show her all of my ideas first.
I love how they turned out, and I'm even more excited that she does too. 🙂